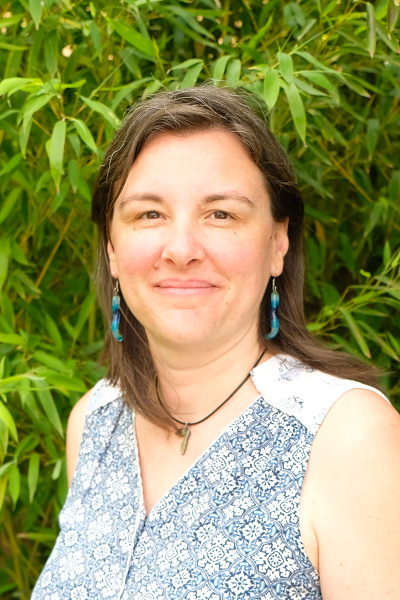 Info
Translating since: 2004
Translates: English and Italian into French
Fields of specialisation: environment (food, environment and health, climate change and circular economy) and public health
Profile
After starting out in-house with a major player in language services in the UK, Cécile took the leap to launch her own translation business. As a polyglot with a passion for people, she forged a specialisation in public health. She now enjoys excellent relationships with clients mainly based in Europe and the United States.
Whether it's breaking down language barriers or facilitating communication between people, it's all in a day's work for Cécile. As a gifted linguist, she understands how the right word choice or turn of phrase can make all the difference when it comes to your content and reputation.
As a cofounder of Syllabes and experienced team player, Cécile aspires to fostering a shared vision for the translation profession, founded on transparency, care for others and fairness.
Cécile's interview
Why and when did you decide to become a translator?
From a very early age, I've been interested in learning foreign languages. My grandmother, who was an English teacher, taught me a song in English when I was 5 years old. Then, I started learning Italian in primary school, followed by English in secondary school. Every year, between the ages of 10 and 17, I went on a school or language study trip to Italy or England.
Around the age of 13 or 14, I also became a real film enthusiast. Every week, I would go to the cinema two or three times. I was interested in various types of films and, when I could see the original version of a film with subtitles, I simply loved it.
Becoming an audio-visual translator seemed like the ideal path for me to combine my love of films and languages. At university, I applied to join audio-visual translation studies but ended up in the professional translation section instead. I discovered that I really loved translating texts from English and Italian into French even if they were not related to films. And the rest is history as they say!
What are the main reasons you joined Syllabes?
Being a freelance translator doesn't mean you have to work on your own. Quite the opposite! I've always believed that teaming up is essential, to exchange ideas and improve skills.
I started my career as a translator at a big translation agency where I had the opportunity to work with translators in various language combinations, project managers, engineers and various other colleagues. When I became a freelance translator, I started working with friends from university who had already started their own business. It seemed natural to help each other, work on joint projects, share our questions and doubts and try to find answers together. I really appreciate joining forces with friends while enjoying the flexibility of working from the comfort of my home.
In 2010, I joined the SFT (Société Française des Traducteurs – French Translators' Association) and, after a few years, I volunteered to become a regional delegate. I was part of a team of 4 to 6 translators whose mission was to organise meetings, training sessions, workshops or casual gatherings for SFT members.
That's how I met Claudia, who phoned me one day and made me an offer I couldn't refuse. She told me that we needed to team up to secure our future as freelance translators. She didn't know exactly how to proceed, but she asked me if I would be interested in creating a translation team with her. I said yes straight away as I was really keen on developing teamwork beyond the informal collaboration that I had enjoyed so far with my friends from university.
What do you like most about translating?
You can never get bored with translation! You constantly learn new things in areas you wouldn't have thought existed (which sometimes leads to funny conversations with your friends and family). You have the opportunity to develop your knowledge in your chosen fields of work and interest. Translation helps you to better understand the culture, traditions and history of different countries. It's also a great opportunity to improve your knowledge in your native language. Translators are like detectives looking for the right word, phrase or sentence to convey the meaning of the source text. When we find it, it's so rewarding!
You specialise in translations for the environment and sustainable development. Why?
Syllabes' members all live in small towns or close to nature. We all enjoy outdoor activities and are personally interested in environmental issues.
Professionally speaking, we work in various fields and have gained different experiences over time.
When we created our cooperative company, we wanted to find a common area that reflected our values and shared interests, where we could contribute to an important cause. It seemed natural to us to work in environment and sustainable development as those fields allow us to meet our specific goal. Most importantly, as the whole world gradually becomes aware of the dramatic consequences of climate change in the long run, these areas are key to finding solutions and ensuring humanity's future. Translating in environment and sustainable development enables us to play our modest part in this process.
Looking back, what do you think distinguishes Syllabes from other companies/groups of professionals?
I can't pretend to know all the types of companies and groups of professionals that exist around the world. However, I feel like Syllabes is one of a kind (at least in the translating world) particularly because of its business model. We decided to create a team without a leader, where all members have the same responsibilities towards the company and each other, where we try to share projects and administrative tasks as equally as possible, and where we take every single decision together. Syllabes is the sum of all its members, so we decide together what to do and where to go next. As it turns out, we're all translators, but such a model could work with any other profession. Plus, we strive to be transparent about our methods and practices with our clients and colleagues. We believe that creating and nurturing long-term partnerships with them could inspire others to explore different ways of working and living together, to build a brighter future for all.